Mega Moolah Bitcoin online slot
Bet options

| | | |
| --- | --- | --- |
| | Min bet | Max bet |
| BTC | 0.000009 | 0.000225 |
| ETH | 0.000130 | 0.003250 |
| LTC | 0.002750 | 0.068750 |
| $ | 0.25 | 6.25 |
Mega Moolah by Microgaming – Bitcoin Slot Review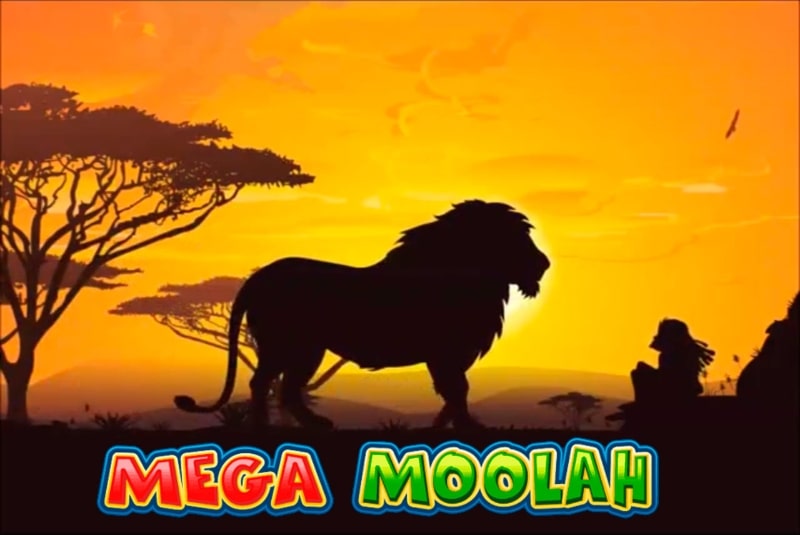 Having been around for more than 15 years, this iconic slot might not have the most stunning graphics, but it is still the talk of the town. Since its release in 2006, Microgaming's Mega Moolah progressive slot game has made a whole bunch of people millionaires. The most recognizable of all bitcoin jackpot slots, the Guinness World Record holder, Mega Moolah has been nicknamed "Millionaire maker" and for good reason. The chance to land a life changing win with the Mega jackpot attracts thousands of online gamblers. The biggest online progressive jackpot in the industry is now available in best bitcoin casinos.
In this Mega Moolah slot review we will touch upon the most burning Internet questions regarding this epic BTC slot:
can I play Mega Moolah for free?
how to play Mega Moolah?
how to get free spins in Mega Moolah?
how to get Mega Moolah jackpot wheel?
where can I play Mega Moolah to win real money?
Mega Moolah slot free demo play…
…is not available, unfortunately. Due to progressive nature of the game, the small portion of every single bet contributes to the four pooled jackpots. Any attempts to start Mega Moolah in a free-play mode will cause an error message to appear. Nevertheless, demo mode still allows players to navigate through the slot's settings and paytable.
Further down you will find a list of best bitcoin gambling sites where you can play the Mega Moolah BTC slot to win real money. Now, let's take a closer look into the gameplay of the Mega Moolah Bitcoin Slot.
Mega Moolah Game Rules Explained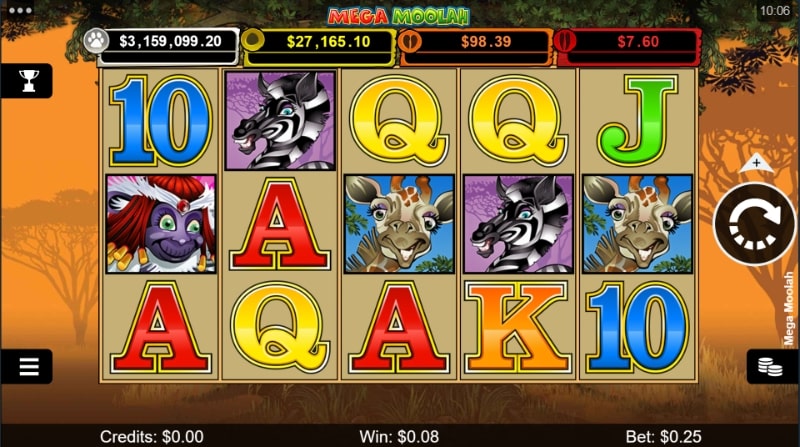 If you are new to playing BTC slots, don't worry about long and complicated instructions on how to play Mega Moolah bitcoin slot. This guide covers all the rules which are quite simple, as a matter of fact.
Wagering requirements:
Minimum bet value is $0.25
Maximum bet value is $6.25
Mega Moolah is a 25-payline online bitcoin slot game with a standard layout of five reels and three rows (5×3).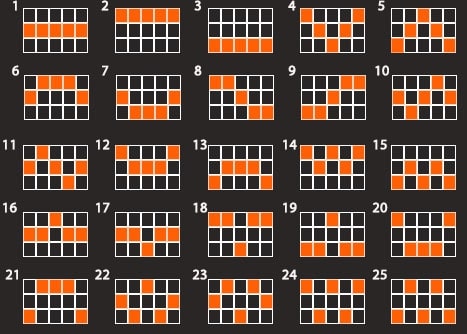 The Mega Moolah slot machine used to have 25 adjustable paylines, meaning players could choose on their own how many active paying lines they wanted to bet on. Now, it's fixed: if you place a 25-cent wager to spin the reels, it will be divided by the number of total paylines (25), which means that, in this particular case, the player bets 1 cent on each paying line.
If you have more than one winning combination, you will be awarded prizes for each winning paying line according to the paytable.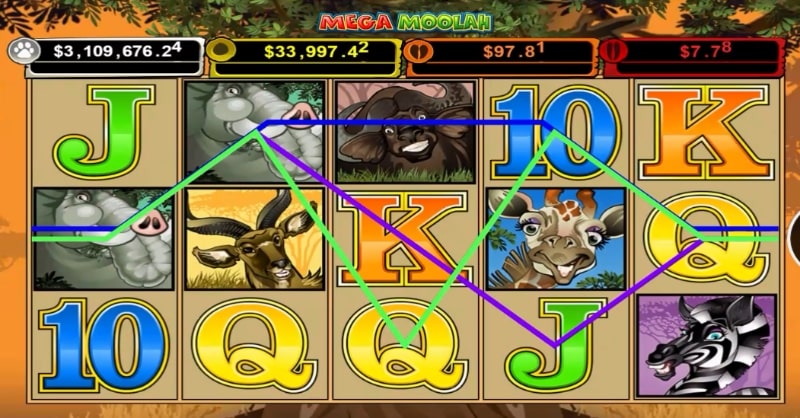 In this example, two elephants complete three different paylines. The player will receive wins for each of them.
Regular symbols
If you land a certain number of matching symbols on adjacent reels starting with the leftmost reel, then your bet will be multiplied according to the paytable.
Low-paying symbols
The card value symbols (10, J, Q, K and A) are low-paying symbols. Three or more matching symbols will multiply your current bet. With maximum bet of $6.25, you will have a 25¢ bet on each line. If you land 5 Aces on a paying line, it will win you $37.50 (25¢ x 150)

By the way, players can quickly consult the mini paytable between the spins by clicking on a particular symbol.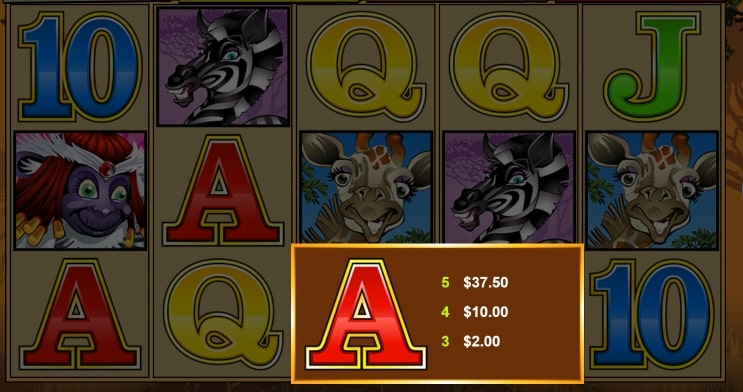 High-paying animal symbols
The animal symbols, on the other hand, are high-value multipliers. Moreover, it is enough to land just two matching symbols of such animals as Monkey, Buffalo, Elephant and Lion to get your wager multiplied.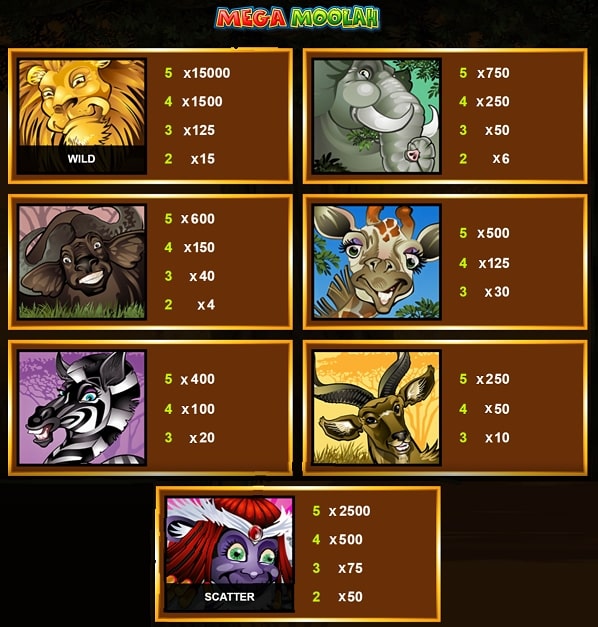 The lineup of five Lion symbols will win you the maximum payout during the base game by multiplying your current bet per line by x15000.
Special symbols
There are two special symbols that may help significantly boost your winnings while playing the Mega Moolah casino game – Wild and Scatter symbols.
Wild symbol
Lion, beside forming winning combinations on its own, also acts as the Wild symbol – it can substitute any other symbol (except for the Scatter one) to help complete other winning patterns. In fact, the wild Lion symbol also doubles your win when substituting.
Scatter symbol
The scatter symbols, represented with a Monkey, also play a special role in the Mega Moolah BTC online slot game. If three or more monkeys land anywhere on the reels, they form a scatter combination that will grant you 15 free spins. During the free spins round all wins are tripled (x3), which means that players can scoop up to 12,000$. Furthermore, the bonus spins feature can be retriggered on a free spin as well.
How to get free spins in Mega Moolah?
Microgaming's Mega Moolah online slot offers two ways to activate the free spins bonus. As we mentioned earlier, 15 free spins can be awarded as a part of in-game mechanics. Another way to get some free spins is through promotional deals that can be found on the official website of the Mega Moolah slot.
How to get Mega Moolah jackpot wheel?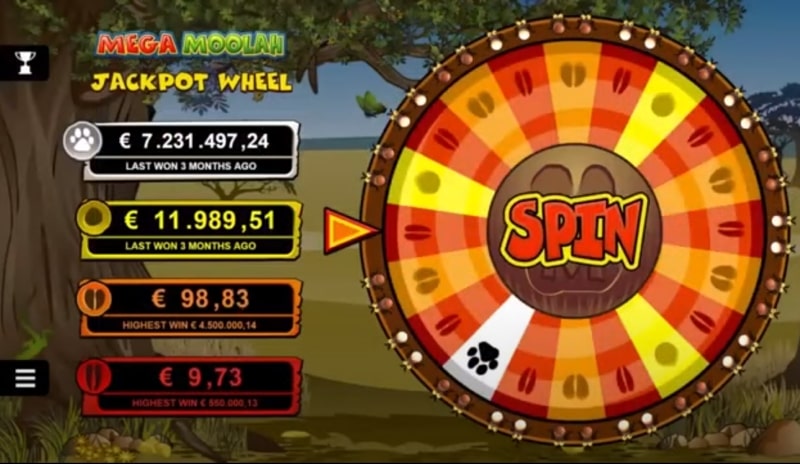 You don't have to keep an eye out for a particular symbol or pattern on the reels to trigger the jackpot feature. The Mega Moolah jackpot bonus wheel appears at random. Nevertheless, it is clearly stated in the slot's rules that higher bets increase your chances of triggering the bonus game.
Mega moolah jackpot wheel
If you are lucky to land the Mega Moolah jackpot wheel, then you are guaranteed to take home one of the four progressive jackpots – Mini, Minor, Major or Mega.
It is no secret, that the Mega Jackpot is the thing that everyone is after. Thousands of players around the globe contribute to the ever-growing massive jackpot united by Microgaming progressive jackpot network.
If some lucky player strikes gold with the jackpot wheel and does scoop all that moolah, the Mega jackpot will reset and start over at 2 million.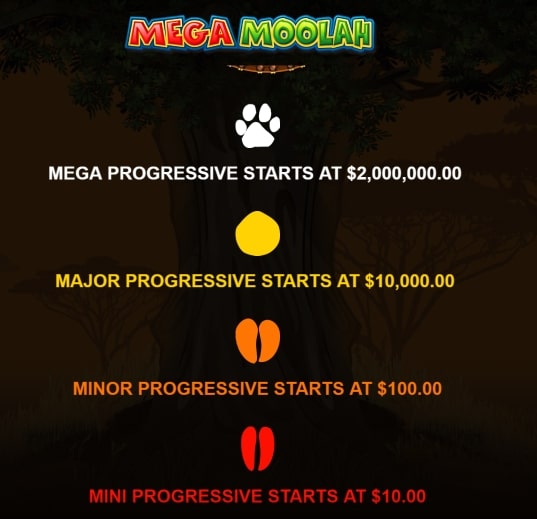 You can always check the Mega Moolah jackpot tracker to see where the current progressive jackpot stands at.
Mega Moolah RTP
RTP% stands for Return-to-Player percentage. This figure shows how much money a player can potentially take home as winnings after playing a certain slot. An average RTP for online bitcoin slots usually falls in 94-98% range, which means that, on average, players get back 94-98 dollars out of every $100 spent. However, players should keep in mind that RTP% is calculated over hundreds of thousands of spins and cannot be applied to a single gaming session.
Mega Moolah's RTP is 88.12%, which is quite low, but expected since a small to fund not one but four separate progressive jackpots.
Mega moolah variance
As we said above, slot's RTP% is measured over a long-term period, whereas slot's variance, or slot's volatility, determines the frequency and size of the wins short-term. Overall, Mega Moolah BTC slot machine is a low-variance game where small wins happen nearly every other spin. Nevertheless, the Mega progressive jackpot is a rare occasion indeed.
How to play Mega Moolah online?
The best way to play Mega Moolah jackpot slot online is to find a reputable Microgaming bitcoin casino. As cryptocurrencies become more and more recognized by different industries, BTC holders now have access to the wide range of Microgaming slot games, including the jackpot titles.
Where to play Mega Moolah slot machine?
We compiled a list of best bitcoin casinos with Mega Moolah jackpot title in their lobbies:
bitstarz
stake.com
7bitcasino
bitcoincasino.io
cryptoleo.com
FortuneJack
bitcasino.io
As you can see, there is no shortage of crypto casinos with plenty of bitcoin slots, including the Mega Moolah progressive slot. To attract customers, Microgaming online casinos offer some lucrative welcome bonuses and organize regular promotions.
Play Mega Moolah in a BTC Microgaming mobile casino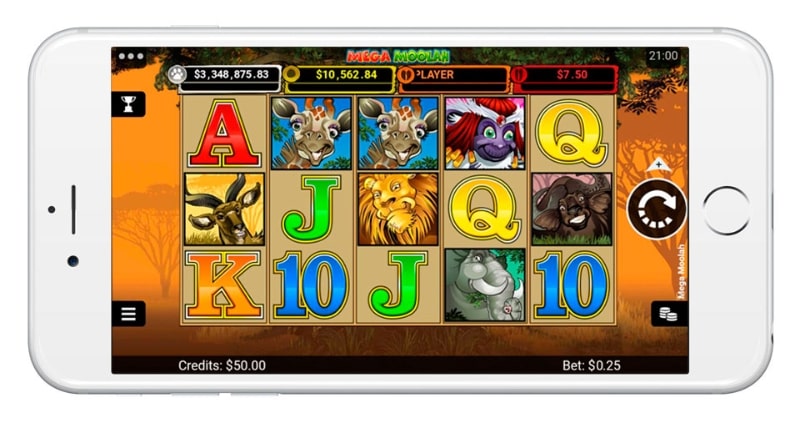 Around 90% of gamblers prefer doing reel spinning on their mobile devices. In 2012 the slot was updated to ensure smooth experience for iOS and Android users alike. You can play the Mega Moolah bitcoin slot directly in your mobile browser in a BTC Microgaming casino of your choice.
Mega Moolah Jackpot: making millionaires
Even though players have higher chances of coming across the Mega Moolah jackpot wheel, you don't necessarily have to be a high roller to become a multi-millionaire. Here are some stories of success where fortunes were made off a 25-cent bets.
Who won Mega Moolah jackpot?
It is only natural that Mega Jackpot winners are reluctant to reveal their identities for such reasons as security risks, unwanted public and media attention and sudden appearance of distant relatives that you didn't even know about.
Guinness World Record
Luckily for us, that wasn't the case with Jon Heywood, the former British soldier, who won whopping £13-Million Mega Moolah jackpot in October, 2015. The biggest win in Mega Moolah's history also set the official Guinness world record as the largest jackpot payout in an online slot machine game.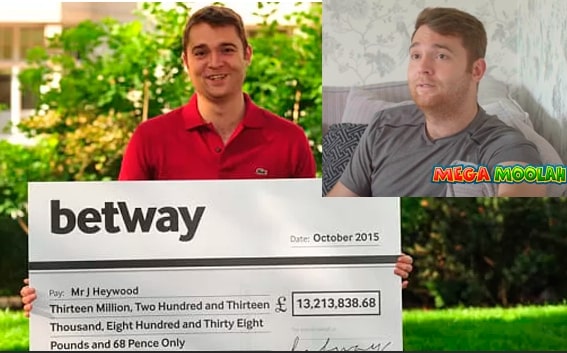 It took Heywood, who was 26 at the time, only a 25-cent bet and 25 minutes from the moment he registered at Betway casino to hit that life changing jackpot.
Heywood was at home watching History channel on TV when he won the Mega Jackpot. He wasn't even paying that much attention to what was going on in the game and was more interested in the documentary he was watching. He saw that the jackpot wheel had appeared and hit the spin button. The next moment he looked at the wheel and saw the arrow right on the line between two jackpots.
Heywood initially thought that he'd won 10K, but the next morning he received a phone call from Betway casino informing him, that he became a millionaire.
We suggest that you watch his interview four years after his amazing win and see for yourself how winning such a life changing amount of money has actually changed (or not) his life.
Guinness World Record renewed
According to the Microgaming website, the world record set by Jon Heywood was topped in 2018 with a €18.9 million win on an Android phone.
Series of Mega Moolah slots
The Mega Moolah slot machine proved to be such a great success that Microgaming has released a bunch of new titles incorporated into the Mega Moolah progressive jackpot network. They added numerous new themes and exciting mechanics for jackpot chasers:
Mega Moolah Summertime
Mega Moolah Atlantean Treasures
Mega Moolah Immortal Romance
Mega Moolah Absolootly Mad
Mega Vault Millionaire
Mega Moolah Fortunium Gold
Mega Moolah 5 Reel Drive
Tips for Mega Moolah jackpot
Place higher betsThe higher the bets, the more chances to trigger the jackpot bonus game
Make use of casinos' welcome bonusesThe competition between crypto casinos for a customer is insane, therefore they offer some lucrative bonuses that can be used for jackpot chasing.
Animal characters of Mega Moolah slot game
The Mega Moolah bitcoin slot machine has a rather plain design but we personally find this African safari theme absolutely hilarious.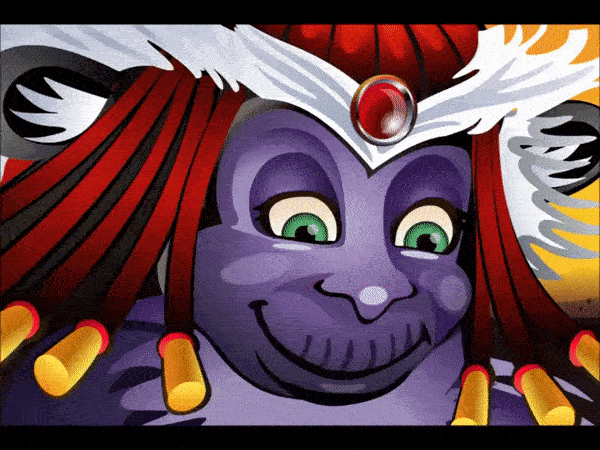 Once grandpa forgot to take his medication and after spending too much time on the Internet, he started mumbling about his safari trip in the African savanna even though he had never been outside Wyoming in his entire life! Moral of the story? Don't wait till seventy to play the Mega Moolah BTC slot machine game otherwise these crazy-ass looking wild animals might mess with your head and you won't recall winning Mega Jackpot at all 🙂
The base game soundtrack with cricket chirping brings the vibes of the hot African summer. And if you get to spin the jackpot wheel, you will hear some tribal ritual sounds.
Play responsibly
We all believe that we are unique and exceptional and that we deserve all the best things in our lives. We all feel that the next spin will be the lucky one. But in reality, millions of people play Mega Moolah whereas the list of Mega Jackpot winners contains only 70 names starting from 2006. Treat these games like an entertainment and not means to become wealthy. Play with the amount of money you can afford to lose and be ready to brush it off if it wasn't your lucky day.
Final thoughts
Mega Moolah is a highly respected veteran of online slot gaming. This BTC slot is quite unpretentious. In spite of lack of fancy 3D graphics, it attracts jackpot chasers from all over the world who seek their perfect Mega Moolah jackpot chance. Top bitcoin casinos now offer to play Mega Moolah on mobile devices supporting both Android and iOS. With its betting range $0.25-6.25 Mega Moolah progressive bitcoin slot will suit both low- and high-rollers.
We wish you lots of luck and moolah, of course!

Time for FAQ
Oh, Mega Moolah progressive slot is absolutely legit. Microgaming is a solid fully licensed software provider for bitcoin casinos. The company and their slots have won so many awards in the gaming industry that they probably have an entire room stuffed with the trophies. Besides, Mega Moolah has set an official Guinness World Record.
Unfortunately, Microgaming slots aren't available for players from the USA.
Online gambling activities are outlawed by 2018 Interactive Gambling Amendment Bill. Online operator and software providers are prohibited from offering any kind of services to the Australian citizens. Mega Moolah is not available for players residing in Australia.
The Mega Moolah progressive jackpot bonus game is triggered absolutely randomly. Higher bets will increase chances of the jackpot wheel appearance. Once you land the jackpot wheel, you won't leave empty-handed as you are guaranteed to win one of the four progressive jackpots.
Similar crypto slots with Mega Moolah Bitcoin online slot