Let's get classic bitcoin slot machines 🎰 rolling!
Do you ever feel nostalgic for no reason? Like, our parents, grandparents, or even great-grandparents lived simpler, and, therefore, merrier lives? No cellphones, no tablets, or any other mobile devices for that matter. No crypto hustle! Kids hanging out in malls and playing arcade games. Workers dropping by a bar to have a pint or two, sliding nickels into a poker machine. Well, we suggest that you give a good shake to all the BTCs in your bitcoin wallet because we'd like to offer you to play classic bitcoin slots online in one of many wonderful bitcoin casinos! Or you can choose to play free classic slots in demo mode on our website. You can also scroll further down and meet Big Bertha!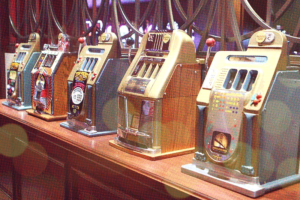 Classic bitcoin slots remind us to appreciate such simple things like traditional fruit symblos on the reels and fewer paylines. How cool would it be to travel back in time just for a little bit and play classic slots for a while?
But before we do that, let's just take a step back and appreciate how the gambling industry has evolved from standalone poker machines that could win you a cigar to online casinos with hundreds of slots united into gigantic progressive jackpot networks that might one day bring you an entire fortune with just one lucky spin.
What are classic slot machines?
As simple as this question is, the answer to it isn't as straightforward and raises even more questions like:
do classic slots have 3 reels or 5?
can classic slots have modern 3D graphics and intricate gameplay?
can you play online classic bitcoin slots?
To answer these questions the best way we can, we need to look at history.
Why do classic slot machines have so many names?
What are old slot machines called?
Classic slot machines used to go by different names. You might have heard of
slot machines;
poker machines;
fruit machines;
video slots;
one-armed bandits (of course!);
or even liberty bells!
But why do these enteraining devices have so many nicknames? Let's start from the very beginning!
First slot machine in the history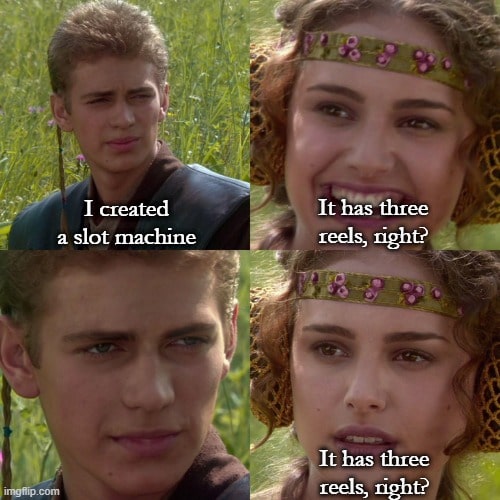 A century and a half ago, give or take, waaaay before the idea of a bitcoin was even conceived, two men, Sittman and Pitt, from Brooklyn, New York, came up with a different brilliant idea: as poker was becoming more and more fashionable in America, they created a mechanical device that allowed to play the game in a single mode. Because it had a slot to put a nickel into, it was a slot machine, and at the same time it was called a poker machine because it allowed players to play poker.
Inside the machine, there were 5 drums with ten playing cards attached to each of them. When the player put a coin into a slit, the mechanism would begin rotating the drums. When the movement stopped, there would be a row of five playing cards on display behind a glass panel. If it showed any of the poker winning combinations, the player could expect to receive a prize: a certain number of cigars to complement his evening or any other prize depending on the establishment. As you might have guessed, the slot machine itself wasn't able to give out any prizes so the presence of an attendant was required, and players weren't able to win real money. Even though Sittman and Pitt's poker machine game had its shortcomings, it had its share of popularity back in the day.
That was the first-ever gambling machine, the common ancestor to a wide variety of those slot games that a century later will take up 70% of land casino floors and a little later still, become simply the most popular attraction of all online crypto casinos. From a nickel to a satoshi, from cigars to BTCs. And yet a poker machine wasn't able to enter the league of great classic slot games.
3-reel machines of Liberty bell
Around the same time, on the west coast of America, in San Francisco, Charles Fey was working on his entertaining gaming device that was much simpler than a poker machine. It was an automatic mechanism featuring three reels and a total of five symbols:
horseshoes,
diamonds,
spades,
hearts,
Liberty Bell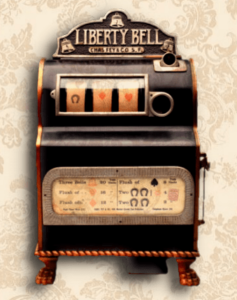 The latter gave the machine its name. They had a huge success and became the inception to a whole industry of machine games. Unlike poker machines, liberty bells allowed players to win real money and were able to dispense winnings on their own! This was a true predecessor of all classic slots to come in the century that followed.
Fruit machine slot games
Later, someone thought of making liberty bells with an option to attach a gum-vending machine to them. To win a fruit-flavored gum players had to land a winning combination of classic fruit symbols such as lemons, oranges, cherries, and plums. The fruit machine kept a bell symbol and added an image of a bell-fruit-gum stick that eventually evolved into a classic BAR symbol.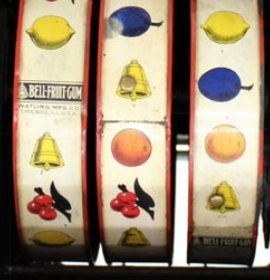 Because to start playing the game players needed to pull a lever, attached to the right side of the machine, people started to call those machines one-armed bandits. Needless to say that all of the above-mentioned slot machines had just one single payline. Simple, fully mechanical, meaning that no electricity was needed to operate them, reliable and entertaining – they stayed that way literally for decades!
Electromechanical and fully electronic slot machines
This stage of evolution includes a period where the actual old-school lever was no longer needed but was nevertheless kept around for a while to not traumatize the public :)
The dawn of the electromechanical era of slot machines is strongly associated with Bally Manufacturing. They filled multiple casinos, saloons, and bars with so many classic slots.
Bally's Honey Money slot
Bally's Honey Money slot machine saw the world in mid-60s and is believed to be the first electromechanical one. It had classic fruits theme and also featured a Honey Money girl scatter symbol (three Honey Money girls landing aanywhereon the reels would pay out).
Big Bertha
By that time, Las Vegas was long established as a gambling destination with millions of visitors coming to the city every year. The industry was booming and Bally went to great lengths to captivate people's imagination. Big Bertha, for instance, was a BIG attraction indeed, and when we say big, we mean it – look at the size of that thing!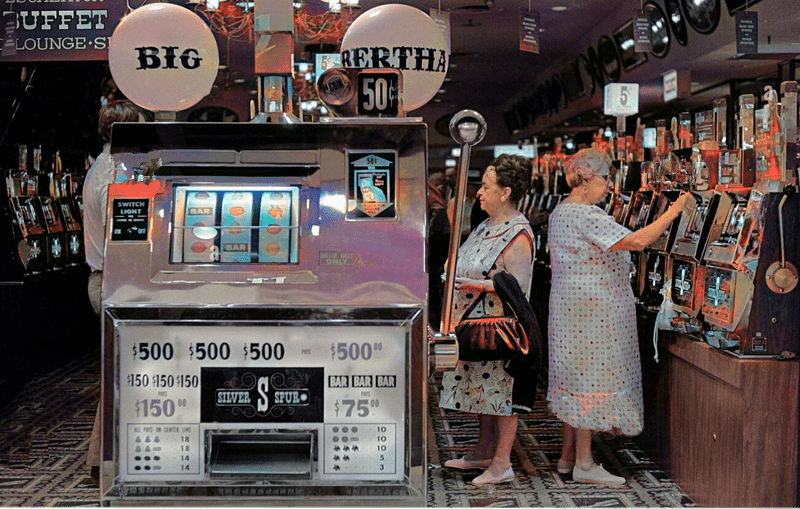 It's hard to pinpoint exactly when the lucky 7 symbol began showing up in slots games but Bally machines had them. Also slot games started to feature several paylines, and 5-reel versions became more and more common.
And there you have it – 100 years of classic slots: 3 or 5-reel machines with 1 to 5 paylines. Most classic slots featured classic fruits theme throughout the entire century. Even though some people might call classic slots old-fashioned, but we, at bitcoinslotstop.com, value them for the simplicity of rules.
Video slots
First video slots appeared in late 1970's. They didn't have spinning reels or any other mechanical parts. They operated fully on electronic circuit boards and had TV monitors that showed all the action. The lever became completely obsolete. Around 1994 slot machines with "second screen" were introduced in Austalia. If player landed a certain combination on the screen, it would change and offer a bonus round feature with additional payout. It allowed to introduce a wide range of different themes for slot machine games and to add completely new features to the game. From this point onwards, classic slot machines featuring fruits
So, what are classic slots?
They are slot machines that usually have a simple paytable without any bonus features or extras. With video slots beginning to offer bonus rounds, storylines and many other kinds of bells and whistles, they can no longer be called traditional slots.
What are the symbols on a classic slot machine?
Sittman and Pitt's slot machine was based on the game of poker which in turn utilizes playing cards, so many modern slot machines still use such symbols as A(ce), K(ing), Q(ueen) or J(ack). The reels of Charles Fey's classic slot contained only five symbols.

First fruit machines contained images of cherries, plums, oranges, and lemons as well as an image of a gum stick, and they retained the bell symbol. Later on, manufacturers expanded the list of fruits to include watermelons, grapes, pears, apples, and bananas.

We, definitely, propose to create a crypto-themed slot game with bitcoins (BTC), ethers (ETH) and other popular alt-coins with jackpot sending you back to 2009 so you could mine as many bitcoins as you want.
Can I play classic slots online with bitcoin?
Of course! Plenty of people enjoy classic slots machines which are readily available online with BTC deposits or real money. Here are our top-three bitcoin classic slots online:
1. Fruit Mania

Hands down, one of the most popular classic slots online. It has 5 paylines. Even though the game has two bonus round features, you can choose to skip them and take the cash.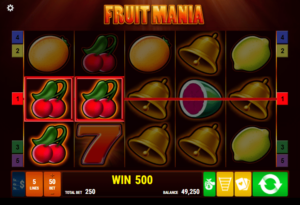 2. 7s-to-burn

Fiery-themed, this classic slot is hot as chili. This 3-reel game features 5 paylines.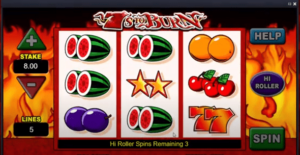 3. 10 Times Wins

With this classic slot it cannot get any simpler. It has 3 reels and 3 active paylines. It features a wild symbol that can substitute any other symbols in order to complete a winning combination.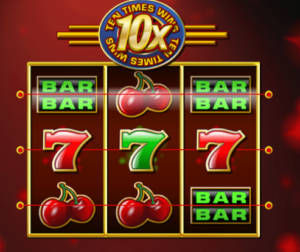 Where can I play classic bitcoin slots online?
Most crypto casinos offer a wide selection of good-ol' classic slot games that you can play online – both on desktop and mobile devices. Crypto casinos accept many cryptocurrencies, so you can play online classic slots using different coins such as:
bitcoin (BTC);
ethereum (ETH);
litecoin (LTC);
dogecoin (DOGE);
tether (USDT);
ripple (XRP);
bitcoinCASH (BCH).
If you enjoy classic bitcoin slots, you can play classic slot machines online for free on our website!
Hey, have your feeling of nostalgia passed yet? How about playing some of the latest online slots with top-notch graphics and super fun extra features? Online casinos have a great choice of free slots with a variety of themes.